DotProduct LLC is a US fabricator of hand-held laser scanners for performing tree-dimensional surveys from short to medium distances. These professional products include Phi.3D software that makes them extremely easy to use. No specialized training is necessary to produce high-quality laser readings, and the point cloud is automatically updated to eliminate the need for flat target positionning or spheres.
The DotProduct line includes two products: the DPI-8 and the DPI-8-SR.
Phi.3D
The Phi.3D software really makes DotProduct stand out from the competition by enabling each scanner to produce 3D captures in real time on a smartphone, tablet, or computer.
| | |
| --- | --- |
| | Produce accurate laser readings in full color |
| | Generate the 3D environment through SLAM technology (Simultaneous Localization And Mapping) |
| | Register point cloud data without targets |
| | View the point cloud in real time |
| | Optimize data file compression to transfer to the cloud |
| | The .dp file format is compatible with LFM, ReCap, RealWorks, CloudCompare... |
| | The .dp file format is accessible for read/write access through DLL |
| | Compatible with .pts, .ptx, .ptg and .ply file formats |
| | Relocation and visual recognition |
| | Software optimisation can be used to achieve fully integrated readings on the tablet |
The DPI-8 product line
The DotProduct line functions around the hardware of an RGB-D camera (for red, green, blue plus depth) and LIDAR sensors (light detection and ranging) to produce highly detailed laser scans.
Available products :
The DPI-8-SR kit is used to scan at a range of 0.3 to 2 meters.
The DPI-8 kit is used to scan at a range of 0.6 to 3.7 meters.
| | |
| --- | --- |
| | 8-inch tablet powers the scanner to ensure autonomy and maneuverability. |
| | Simultaneous data capture and review and data capture |
| | Export to standard formats (.ptx, .e57…) |
| | 16 or 32 GB internal storage, equivalent to 5000 scans (1) |
| | Transfer via USB, Wifi or 3G |
Each kit includes:
A set consisting of one RGB-D camera (short distance for DPI8–SR and normal for DPI8) and LIDAR sensors
Nvidia Shield tablet 16 GB
Phi.3D license valid for one year (including one year of maintenance)
Ergonomic handle
Custom carry case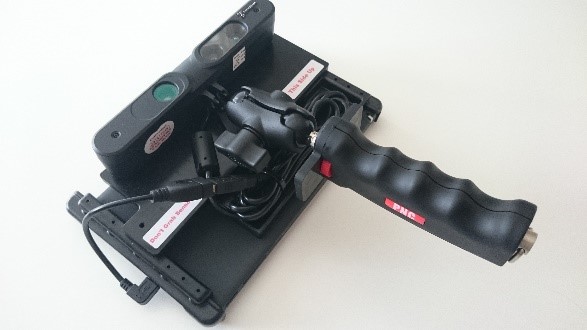 Technical specifications:
Size: 23 x 27 x 8 cm
Operating temperature : between 5 and 33°C
Point density : ≤ 1,7 mm to 1 m / ≤ 3,4 mm to 2 m
(1) Usuing proprietary compression technology
Orinox is an authorized seller of DotProduct solutions
Orinox offers the ensemble of DotProduct solutions and associated services including deployment, training, and maintenance.