Orinox Developpement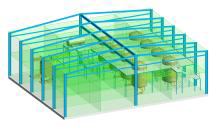 Orinox is consently seeking offer innovative solutions to our clients. So, Orinox has elected to create a product that permits task optimization for drawing and design. Area Manager, developed by our subsidiary Orinox Developpement, is compatible with AVEVA PDMS 12, and maintained by an intermediary support system designed for our services.
Simplicity, ergonomics, performance, and quality are the standards of Orinox Developpement.
An AVEVA E3D-compatible version is currently in progress. Orinox Developpement is also prepared to offer versions of Area Manager that are compatible with previous versions of AVEVA PDMS depending on client needs.


The Orinox Developpement team is prepared to meet any custom development needs.
Area Manager
AREA Manager is a plug-in created by Orinox Developpement that facilitates the automatic generation of drawings.
In managing your project, Area Manager will guide not only data views and search fields, but also the generation of plant drawings used by each trade delivery team.


Area Manager V1
Area Manager V2