Orinox provides expert training across the AVEVA IE&D software suite. Whatever your industry or level of experience, Orinox puts the power of the Digital Asset in your hands.
Learning in context
Immerse yourself in realistic and engaging training exercises that replicate the design process across any sector: Oil & Gas, Nuclear, Energy, Chemical, Environmental, Pharmaceutical, and Food Processing.
Our training sessions offer shortcuts and "best practices" for AVEVA IE&D based design and data management. Manuals and training guides may be adapted for specific customer needs upon request.
Training specialists
Our expert training instructors have years of experience in plant and piping design, structural, civil engineering, and mechanical design. They encounter the same challenges as our EPC and Owner-Operator customers, which gives them a unique perspective to keep all training materials both current and relevant.

Choose your own path
Our training programs are designed for a wide range of AVEVA IE&D software experience and design abilities (PDMS, E3D, Diagrams, P&ID, Engineering). Our beginner courses provide a foundation for best practices, while our advanced courses are used to develop proficiency with complementary modules (Advanced User, Administration, Catalogue).
We strive to offer the best quality solutions to meet the individual needs of each client.
Training programs: Participants follow one of our standard training sessions with clearly defined content, duration, and prerequisites.
Training à la carte: Build your own training program based on the material covered in all available courses.
Custom training sessions: Our experts will create a customized training session based on your specific content needs.
Flexible and convenient
Orinox offers training sessions worldwide, both in-house and at client offices.
Current training session capacity ranges from 1 to 6 people per session, depending on the ability level of participants and the requested content. We offer fast response times, so that sessions may be held with very little delay throughout the year.

Available training sessions
USER
OF_002 : AVEVA PDMS USER DESIGN (

5 days for beginners

)
OF_004 : AVEVA PDMS USER DRAFT (

5 days for beginners

)
OF_022 : E3D USER MODEL (

5 days for beginners

)
OF_023 : E3D USER DRAW

(5 days for beginners)

OF_009 : AVEVA DIAGRAMS USER (3 days)
OF_011 : AVEVA SCHEMATIC 3D INTEGRATOR USER (1 day)
OF_012 : AVEVA ENGINEERING USER (1 day)
OF_019 : AVEVA MDS USER (1 day)
NEW ! OF_024 : Upgrade E3D2.1 (3 days)
ADMINISTRATION
OF_006 : AVEVA PROJECT ADMINISTRATION (2 days)
OF_005 : AVEVA PIPING CATALOGUE (3 days)
OF_010 : AVEVA DIAGRAMS ADMINISTRATION (2 days)
OF_013 : AVEVA ENGINEERING ADMINISTRATION (3 days)
OF_020 : AVEVA MDS ADMINISTRATION (2 days)
OF_057 : AVEVA DRAFT ADMINISTRATION (2 days)
OF_058 : AVEVA ISODRAFT ADMINISTRATION (1 day)
OF_008 : PML 1&2 (3 days)
For further informations, you can download our Training program :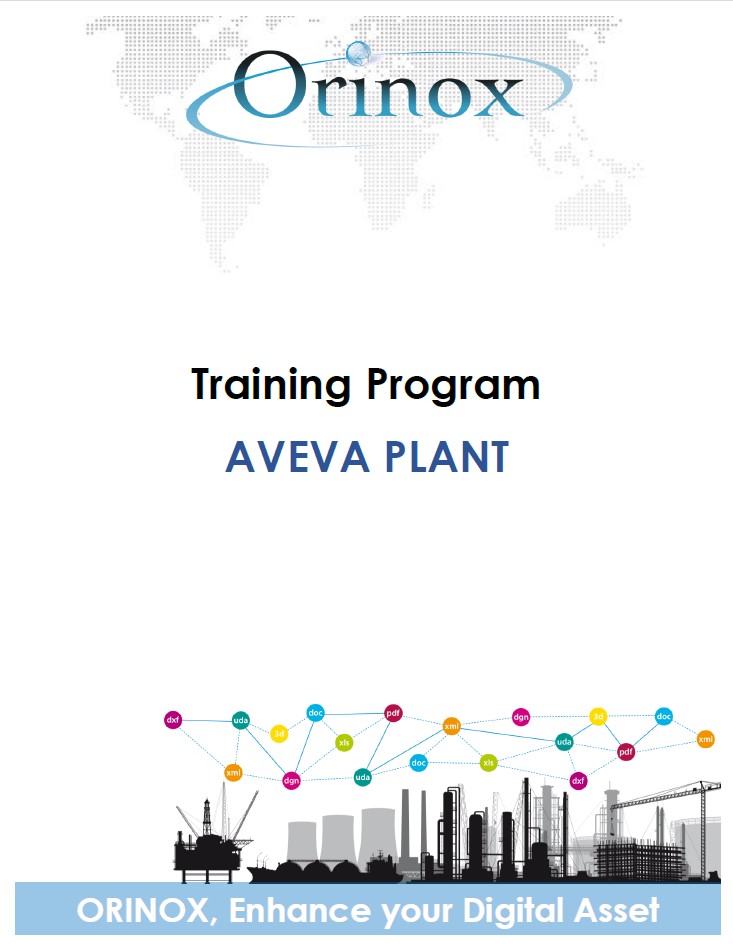 For any questions, please contact us !